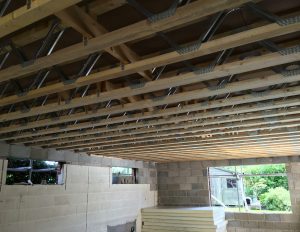 Introduction
The Metal Web Joist is a parallel chord truss utilizing stress graded timber.
These chords are plated together with a precision engineered and manufactured structural component which, when combined, form the metal web joist .
The metal web joist combines the lightness of timber with the structural qualities of metal.  Together these two materials offer an opportunity for designing commercial, domestic and industrial floor applications, with spans equal to, and exceeding traditional timber joist and I-beams , but with better damping and stiffness qualities.
Metal Web Joist is a precision designed and manufactured floor system, created to make floor joist manufacture faster, more cost effective and easier to install.
Timber
Timber used in the design of easi-joist is kiln dried and strees graded, and complies with current European and British Standards.
Features
Factory manufactured, made to measure

Long continuous spans, reducing or eliminating the need for intermediate support walls

Light and easy to handle

Increased spacing centres

Dimensional stability

Design accuracy through specialist software

Trimmable ends to facilitate installation where bearing support is inconsistent

Wide nailing surface making the nailing and gluing of decking quicker and more accurate

Improved floor performance

Stiffness and strength built into the floors improving floor rigidity
The Benefits of easi-joist:
Open web design
This allows for easier, more practical, installation of services including waste water pipes, electrical cabling, heating pipes and other services.  The open design eliminates the requirement for any holes to be positioned or drilled reducing labour costs and incorrect workmanship.
Light weight
The combination of smaller timber sections with the lightweight metal web means that the finished product is lighter than timber and much lighter than timber equivalents.
Handling and installation
Large bearing surface allows a speedy set out of joists improves joist stability when laying out joists and enables easier fixing of decking materials.
Reduced site wastage
The precision-manufactured easi-joist virtually eliminates all site alterations, and standard timber sizes ensure materials are readily available.
Long-term stability
The reduced timber section used in the manufacture of the easi-joist , combined with the metal web means that there is less loss of moisture and shrinkage, thus providing a quieter and longer lasting floor system,
Improved sound performance and reduced vibration
The metal web floor system allows for the installation of a rigid Strongback that reduces vibration and improves the overall acoustic performance of the floor.
Fire Retardant
We can provide metal web floor joists which comply with 'Cat C Fire Performance' requirements.